A Halloween fanatic in Parma, Ohio, is celebrating the holiday this year by erecting a giant AT-AT walker from Star Wars on his front lawn.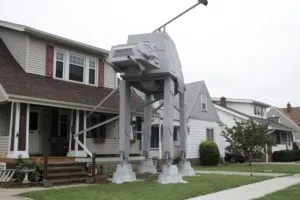 "It was a weekend project," says Nick Meyer, who started collecting the hard foam, plastic barrels and wood he used to construct the replica back in April. "I just thought it would be neat to build a walker. It's something unique."
The replica takes up most of his front yard and is nearly as high as the two-story house he shares with his wife, Becky.
Over the past six or seven years, Meyer has also commemorated Halloween with front-lawn installations like a replica of the cabin from the original Friday the 13th movie. "We [once] had a pirate ship coming off the front porch," Meyer adds. "One year we built a mausoleum."