Lion & Bright in Halifax's north end, recently posted signs informing patrons of the rule, which requires work-related screens such as laptops and tablets to be put away during the evening when they make the switch from café to restaurant: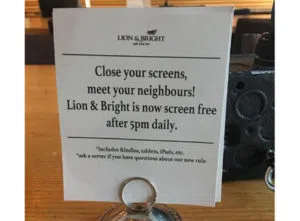 But it didn't quite go as planned.
The rule sparked a debate online, and while a few people were receptive to the change, others declared it "pretentious."
A Twitter user said: "Well, I know where I won't be going. I can manage my own device usage, be a social human being and engage with people on my own terms."  Another Twitter user said: "Weird for a place that has tables specifically reserved for people who are working, and that is full of people working all the time. "
The backlash prompted the restaurant to issue a press release late Tuesday afternoon apologizing if the rule came off as "patronizing and haughty."
"This was not our intention," the release said. "Being committed to openness and building a safe space for community to gather, we have taken the constructive feedback and have decided to edit those signs with a clearer message." It said the rule was "strictly for the benefit of our clientele to enjoy the dynamic space and offerings we've created in the community."
Owner Sean Gallagher clarified that the rule does not include things like smartphones or reading a book on a Kindle — only devices being used for work purposes. He said during the day, many use the cafe as a work space. But in the evening, people are encouraged to "turn off their work" and relax and socialize.
"It's a work hard, play hard philosophy," said Gallagher.
"If you're using a screen and you're tapping away and you're plugged into headphones, you're closed off to the world. We're saying, at 5 p.m., now is the time to relax, connect with people, look people in the eye, share a drink, share your hopes for the future, talk about your work day, de-stress, and enjoy yourself."
Lion and Bright is not the only cafe to attempt to grapple with such digital-age issues.
HotBlack Coffee in downtown Toronto has not offered Wi-Fi since opening last year, in an attempt to foster a community atmosphere. One New York City chain has decided to do without at most of its outlets as well.