Natalie is getting married in less than a month and maybe slightly is freaking out right now.  Mostly about not being prepared for her big day.  But to ease her worries, Frankie Hollywood compiled a list of 10 Awesome Things About Being Married:
1. Not having to date. No waiting for a guy to call, no wondering whether or not he's really into you, no uncomfortable conversations about where you think this is headed. I do not miss any of that awkwardness and uncertainty at all.
2. Not having to shave religiously.
3. Burping and farting and not being embarrassed.
4. Sharing household duties.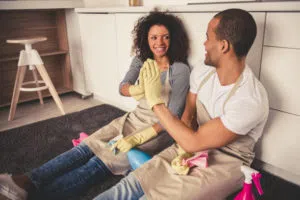 5. Warm up your feet at night—naturally.
6. Having someone to Netflix and chill with, and I mean actually watch Netflix and actually chill, at the end of the day and actually like it.
7. Not having to call sex "Netflix and chill."
8. Having someone to pick up the slack when you're sick.
9. Sharing the driving on road trips.
10. Being told you're beautiful when you're sitting on the couch in your jammies looking like a bag and haven't even had your coffee yet.