Do you find yourself running late when you're getting ready most mornings? Here are 10 easy hacks that can help you out when things go wrong: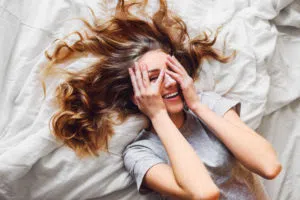 Clip a bobby pin to your lotion tube and lower it all the way down to get the last drops out. (This also works for toothpaste and other tube-shaped products.)
Use the indented end of the bobby pin to get the perfect cat eye tip.
When your lipstick breaks, mash it into a compact for portable, easy usage.
Spritz a little hairspray on a cloth or paper towel if you can't find your lint roller.
Use a dab of olive oil from the kitchen if you're out of lotion.
Pat baking soda under your arms if you're out of deodorant.
Use a lead pencil (graphite works as lubricant) to rub the sides of a stuck zipper.
Substitute a hot pot as an iron if yours stops working.
Wrap a gorgeous scarf around your head when your hair won't behave.
Clean shoe stains and scuffs with nail polish remover.