We're not sure if we should be jealous of her tenacity; proud of her unwavering commitment to her unique style; or lend her some sneakers!
Apparently, Lady Gaga doesn't believe in dressing down. The singer was photographed hiking in Montauk, New York Thursday in a pair of pointed-toe nude stilettos, a body-hugging black skirt and a off-the-shoulder crop top!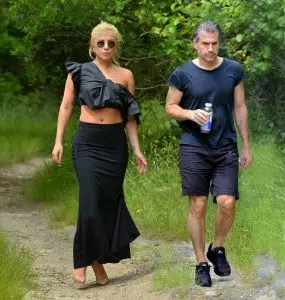 She completed her outfit with big sunglasses and her hair tied back in a messy bun.  Gaga's new boyfriend, talent agent Christian Carino, opted for a more appropriate ensemble – a t-shirt, shorts and sneakers.
Do you think maybe she forgot her hiking attire or is she just being Gaga?