A British man was sent home from work Monday after he wore shorts to the office in the midst of a heat wave.
Joey Barge wondered on Twitter why women were allowed to wear skirts at work while men were denied a similar comfort. He posted a picture of himself in shorts as he was heading into the office.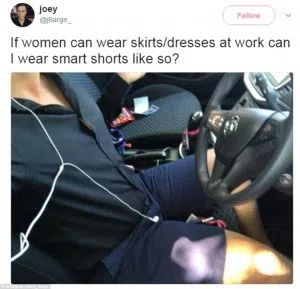 Less than an hour later, he was sent home to change into more appropriate work attire. Rather than simply go home and throw on a pair of pants to appease his bosses, the 20-year-old donned a bright pink dress and returned to the call centre where he worked. He took another pic for comparison purposes.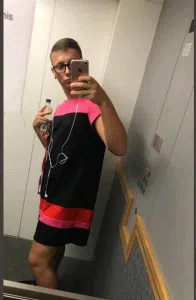 As he documented his story on Twitter, he received hundreds of likes and retweets.
While Barge expected to get sent home again, the company he worked for issued a memo announcing a change of policy.  Barge's bosses asked him if he wanted to go home and change his clothing after announcing the policy change – he took a pass.
Do you think it's not fair that men can't wear shorts and/or open-toed shoes at the workplace  but women can?