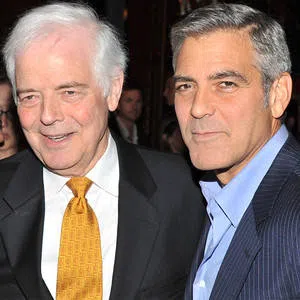 Well that didn't take long! Just days after the Clooney twins graced us with their presence, George's father is opening up about his sons' newborns.
"They are gorgeous. My wife Nina swears they have George's nose," says 83-year-old Nick Clooney. "Not both of them – one of them. The little boy looked like he had George's nose, his little profile." Nick added that he and his wife Skyped with George and Amal following the twins' birth in London. He also joked, "George – his eyes were glazed, so I'm not sure that he was sober. Now that's a joke!"
Meanwhile, a Clooney rep said on Tuesday, "This morning, Amal and George welcomed Ella and Alexander Clooney into their lives…George is sedated and should recover in a few days." The births come mere days after Barack Obama visited the couple at their countryside mansion west of London.
How do you think George and Amal will reveal the twins?  A People Magazine cover with proceeds going to charity or paparazzi invading their privacy?