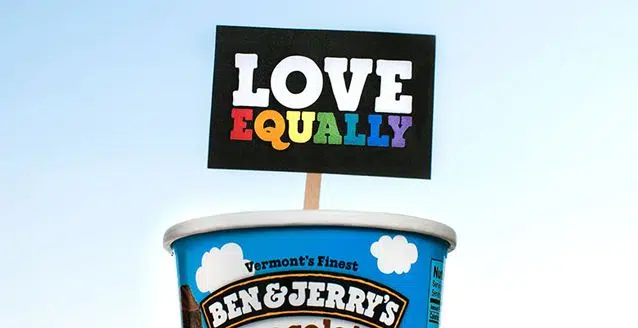 Love comes in all shapes, sizes, colours…flavours?
Ben & Jerry's is refusing to serve two scoops of the same flavour of ice cream at its 26 stores in Australia until it legalizes same-sex marriage!  The Vermont-based ice cream company is putting pressure on the Aussie government to hold a free vote on legalizing marriages between couples of the same sex.
The effort comes after former prime minister Tony Abbott promised to hold a plebiscite on marriage equality, but a bill to make that vote happen was later shot down by senators, The Guardian reported.  A Senate inquiry looking at the issue of marriage equality later released a report saying that the government should hold a free vote on the issue and Ben & Jerry's wants that process to be sped up.
"With over 70 per cent of Australians supporting marriage equality, it is time to get on with it," the company said.
In addition to refusing to serve people two scoops of chocolate ice cream, Ben & Jerry's is also putting post boxes in its locations so that people can send their MPs postcards telling them why they want same-sex marriage to be legal.
The company will then ensure they're delivered before parliament's final session on June 13.
Good on them!