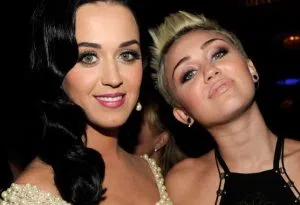 In a recent interview to promote her new album, Miley Cyrus dropped a bomb about her friend, Katy Perry!  Miley said ""Katy Perry, she's been a friend of mine for a really long time…next year, we'll have been friends for 10 years. I think that's my friend that I've known the longest, which is really, really weird," Cyrus said. "When she came out with 'I Kissed a Girl,' I was doing the Hannah Montana movie, and I heard her on the radio, they said, 'Who'd you write that about?' And she said me." 
Wait.  What?
Miley claims that Katy's track 'I Kissed A Girl' is about HER!
Cyrus claimed she was the cherry chapstick-wearing subject of the song!!!
Recalling the first time she heard the song, Cyrus said: "And I was on a four-wheeler. We had a radio attached to the four-wheeler. I heard it and started screaming and freaking out."
Do you think this is true?