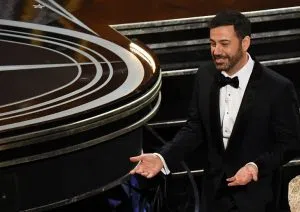 Well the show isn't going to take place until March 4, 2018 but the host for the 90th Anniversary of the Academy Awards has already been announced!  For the first time since the 90's, the academy will have the same host two years in a row!  Yes, that's right: Jimmy Kimmel is back for the Oscars!
In a statement, Kimmel said "If you think we screwed up the ending this year, wait until you see what we have planned for the 90th anniversary show!" a reference to the bungled best-picture announcement at the culmination of the most recent ceremony. ("Moonlight" won, but an envelope mix-up first led to the accidental coronation of "La La Land.")
Do you think he'll help boost the ratings for the Oscars or would you have liked to see someone new host the awards?