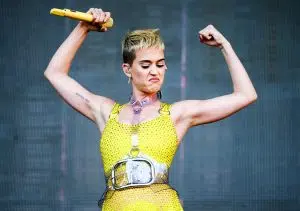 The 'American Idol' reboot is coming to the small screen this fall and ABC is trying to get the best of the best for their lineup of judges.  Kelly Clarkson was rumoured to be a judge but then got signed on for season 14 of 'The Voice' and ex-Idol judge Simon Cowell gave a big thumbs-down to ever judging the show again.  But now ABC has finally confirmed their first judge for the show's return…KATY PERRY!
"We are thrilled to be ushering in this new era of American Idol with Katy leading the charge," ABC Entertainment president Channing Dungey said, calling Katy the reboot's anchor judge. Meanwhile, Perry tweeted, "So thrilled ABC is bringing back American Idol and I'm bringing it back to the music! See you at auditions!" She added in a statement, "I am honored and thrilled to be the first judge bringing back the American Idol tradition of making dreams come true…I'm always listening to new music and love discovering diamonds in the rough."
Do you think this is a good choice?  Who would you like to see added to the judging panel?